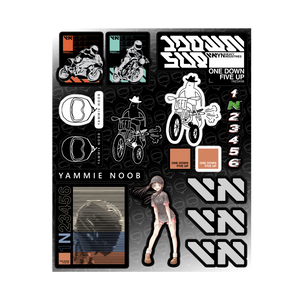 REPRESENT AND RIDE
Are you looking for a way to represent Team Yammie! 
Show some love for your biological father by sticker slapping your favorite Yammie Noob designs on everything. Put the Yeet Cowboy on your toolbox! Put Yammie Chan on your desk at work! Let everyone know that you're not only a cool biker but also in-tune with the finest of minutia in motorcycle culture. These stickers are waterproof, so don't worry about them disintegrating each time you're brought to tears remembering that the turbo Busa is no longer with us. Plus they'll hold up on your bike or helmet when you ride in the rain.
Product Features
9x11 inch sheet

Weather proof

Peel off stickers
Why these Stickers are Yammie Approved:
✓ Designed In-House! These stickers were custom designed by Yammie himself and sure to be a fan favorite.
✓ High Quality! No one likes low quality stickers that fall apart a week after application. These stickers, unlike a turbo Busa, are built to last.
✓ They're Water Proof! These stickers are perfect for outdoor applications where they may be subjected to water, like on your helmet, your motorcycle, or your garage floor beneath your KTM because the head gasket leaks. (just kidding, they fixed that)
✓ All the Designs! Can't justify owning 7 different Yammie Noob t-shirts? Get all your favorite designs in one fell swoop with this sticker pack.