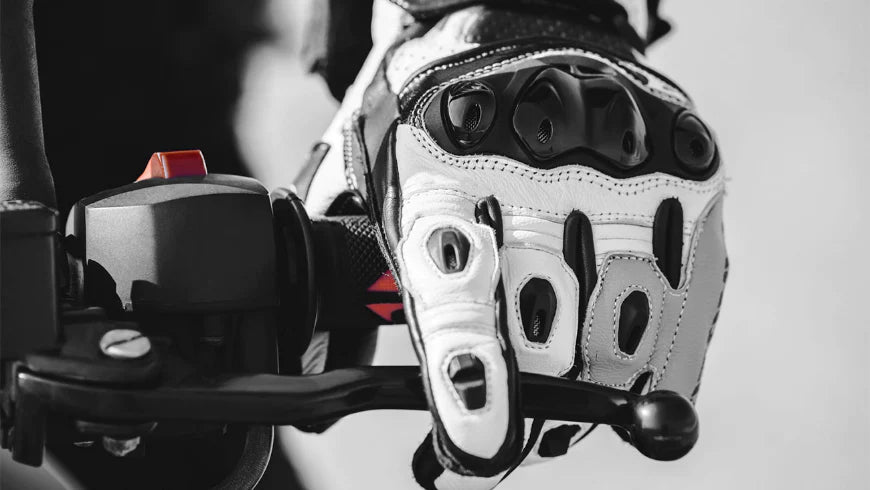 COMPLETE GUIDE TO BUYING MOTORCYCLE GLOVES
Your Hands are everything in life. Protecting them is paramount.
What's more, a crash can occur at any time when riding, and your hands need to be shielded from the asphalt and the many things that could harm them.
There's are many absolutes about riding motorcycles. They're thrilling, freeing, and a lot of fun. Another absolute - motorcycle gloves are not an optional accessory!.
Beyond keeping you comfortable, they serve as an essential barrier between you and the road in the unfortunate event that you fall.
A well-designed pair of gloves will do so much more than provide you with protection from injury. They give you the ability to operate controls, improve grip, offer protection from the elements, and reduce fatigue. Above all, they're essential for protecting your hands in the event of a crash.
ABOUT YAMMIE
In 2015, a young man named eric posted a video on youtube to show his dad that he had purchased a new motorcycle. He called the channel "yammie noob" since he had bought a yamaha, he was very new to riding and it was a throwaway moniker on the internet. Little did he know that it would become a recognized brand throughout the world in just a few years
WHY WE CREATED THIS GUIDE
There are an overwhelming number of motorcycle glove options on the market.
With gloves from different manufacturers, made from different materials, designed for different riding styles and weather conditions, and covering a broad range of sizes, how the heck do you choose the right pair for you?
Fear not my sweet little squids, papa yam has you covered! Our complete guide to motorcycle gloves helps answer all the questions that you might have when trying to pick the perfect option for you.
Our goal was to create the most detailed and complete guide on motorcycle gloves ever published on the web, by going into the weeds on everything that you could possibly want to know about buying motorcycle gloves.
We want you to understand the types of gloves on the market, how to pick the right size, how to shop for comfort, functionality, durability, protection, and materials.
After reading this guide, you'll see that there's so much more to motorcycle gloves than how they look on you.
In this guide we'll cover the following:
WHY INVEST IN SOME HIGH-QUALITY GLOVES?
Our natural instinct when taking a stumble is to fall on our hands to protect ourselves. Next to your head, your hands are the next body part to get busted up in a fall.
Despite this, I've seen a lot of people rolling around without gloves. Other times I'll come across someone wearing standard work gloves when riding. Are they wrong to do this? After all, they are wearing gloves, aren't they?
It's important to know that standard work gloves are not stitched for impact resistance or abrasions. They have no knuckle or wrist protection either. That means if you spill out and hit the pavement at speed, they will not save your hands from the cheese grater that is asphalt.
A "good" pair of motorcycle gloves is perhaps one of the most important pieces of bike gear that a rider needs to buy. A "great" pair of motorcycle gloves, however, will feel like an extension of your own second skin and provide an extra layer of grip for control, warmth, and safety protection in any riding condition.
What's more, a "good" pair of motorcycle gloves isn't that much more expensive than your typical work gloves but will save your hands because they're designed for riding.
Keep your hands protected and scar-free with a new pair of motorcycle gloves.
HOW DO YOU FIND A GREAT RIDING GLOVE?
With hundreds of pairs on the market (and so much choice), it can quickly get overwhelming trying to find the right pair. It's important to find a pair that fits your type of riding, level of expertise, safety concerns and comfort expectations. So, to help you decide, we created this awesome guide.
In this exclusive yammie noob "complete guide to buying motorcycle gloves" you'll find in-depth information that will help you choose the right pair of motorcycle gloves for your unique riding style.
So, let's get started.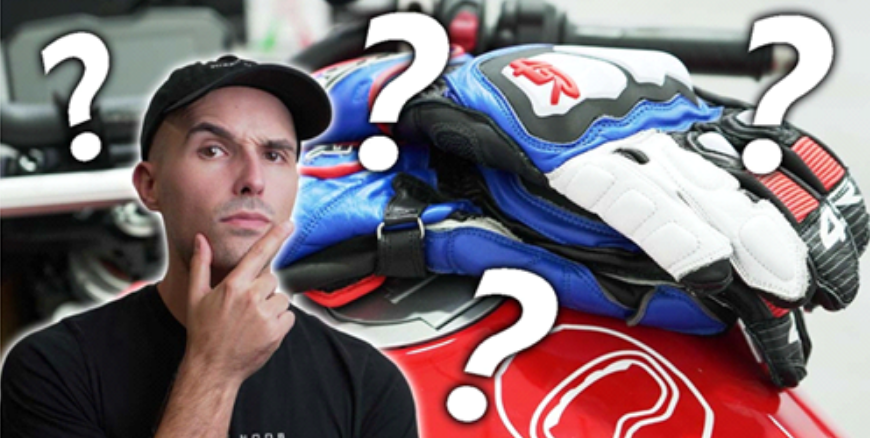 4 QUESTIONS TO ASK YOURSELF BEFORE BUYING MOTORCYCLE GLOVES
A lot goes into picking the best set of gloves for your specific needs.
Before you begin, it's important to ask yourself the following questions to better narrow down exactly what type of gloves you should be looking for
1. What type of motorcycle riding do you do most?
This one seems like a no-brainer, but it's a key factor to consider when shopping for motorcycle gloves. Do you ride on-road (street) or off-road (dirt)? Each will require a different set of gloves.
2. What's your riding style? Do you ride aggressively, or
do you just cruise?
An aggressive rider is more likely to take risks. Because of this, they often require a more robust glove with increased armor. If you prefer taking a leisurely cruise, then you might seek out a less bulky or more traditional glove. If you enjoy spending hours on end cruising the open road, you should be investing in a good pair of touring gloves.
It's important to think about the style of riding that you're into and find a pair of gloves that matches your actual needs. Motorcycling requires an investment in your well-being. You may find you need a several pairs of gloves for different riding situations.
3. What type of weather do you ride in?
If you find yourself riding in the rain a lot, you're going to want gloves that will keep your hands dry.
Anyone that rides knows that temperature matters. If you do a lot of warm weather riding, you're going to want to look for lightweight leather gloves. If you ride in cold climates, you're going to want to prioritize a pair of all-weather gloves made of textile.
4. What's your budget?
You can find a solid pair of gloves across all price-points. Like everything else in life though, you get what you pay for.
If you're on a limited budget when buying motorcycle gear, it's important to balance safety, comfort and cost when deciding on a set of gloves. Remember to be honest with yourself about what you can afford before spending more than you should for an expensive glove packed with high end features.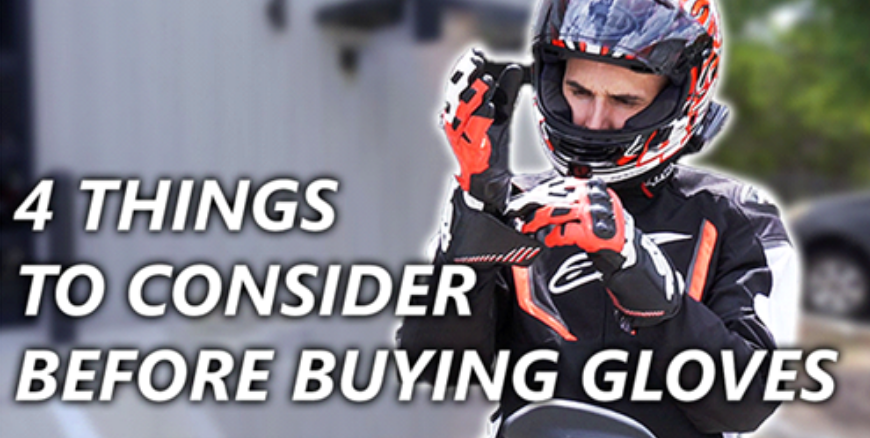 Anatomy of a motorcycle glove
WHAT MAKES UP THE SECTIONS OF A GLOVE?
The structural design of a motorcycle glove is vital to its level of comfort and ability to protect your hands in the event of a crash. Knowing the anatomy of a good glove will aid you in understanding why certain glove features are important, while others are just for shown.

The different parts that make up a motorcycle glove are:
1. The Palm
The palm is designed to allow you to have a better grip of the throttle while providing comfort.
2. The Upper
The upper part of a glove covers the back of your hand and protects it from abrasions or road debris that might impact on your knuckles.
3. The Fourchettes
The fourchettes are fabric strips that connect the palm (through the space between two fingers) to the top of your hand.
4. The Lining
The lining is crucial to the overall comfort of your gloves. Depending on the type of glove, the type of lining used can vary greatly.
5. The Stitching
Stitching is perhaps the most important quality of any well-made motorcycle glove. It determines the durability of a glove to withstand everyday wear and tear. 
6. The Cuff
The cuffs are a section of soft padding or amour that protects your wrists and prevents water and cold from entering the gloves.
7. The Closure
The closure help keep your gloves securely in place.
8. The Armor or Padding
Perhaps the most important part when it comes to protection. Good armor or padding protects your hands from abrasions and injuries from impacts.
HOW DO YOU CHOOSE THE RIGHT PAIR OF MOTORCYCLE GLOVES FOR YOU?
Buy now, it's clear that buying the right pair of motorcycle gloves is a process. So many things should be considered before making your ultimate decision.

To simplify the process, we wanted to include some of the key factors to think about when shopping for motorcycle gloves.

1. SIZE MATTERS

Your riding gloves must be the right size to allow for maximum comfort and protection. It's so crucial to find gloves that both fit well and offer a good balance of snugness and room to move. You don't want gloves that are too restrictive (or loose fitting).

A good fit is super important! In fact, next to impact protection, proper fit is the single most important factor to consider when buy a pair of motorcycle riding gloves.

Here's some things to look out for when factoring in the size of your gloves:
 The Snug Factor:

Try to buy gloves that are snug but not too tight. There should be no excess material at the ends of your fingers. The section of glove near your wrists should be tight (and not loose at all).

Having snug gloves that give are essential to maintaining full, direct control of your bike when you ride.

A glove that is too small or tight will make your hands tire out faster and are very uncomfortable to wear on long rides. Air circulation also becomes limited with tight fitting gloves, and your hands will feel like they're on fire.

If your gloves are too saggy for your hands, any armor or protective layers contained within the glove will not provide the protection that you need in the event of a crash or slide.

Loose-fitting gloves make it hard for you to get a proper grip of lever controls since there is too much material.

Break-in Time:

Be sure to consider that with time, your new gloves will begin to widen or break-in from regular use. That's why new gloves always feel tighter at the beginning even if they are the right size for you

Your Unique Anatomy:

Getting yourself a motorcycle glove that matches your exact hand size is a vital process that you cannot afford to ignore.

Sizes can differ wildly from glove to glove, so make sure you know your true hand size.

Because you're shopping for your gloves online, it's important to use the corresponding sizing chart provided on our site for each glove before buying. These handy guides will show you how to measure your hand and pick the best fitting glove for your unique hand anatomy.

2. How Do They Feel?
Far too often, people buy motorcycle gloves without really paying attention to how they feel. It really doesn't matter now protective or water-resistant your new set of gloves are if they hurt your hands or make your fingers numb.
Try them on! Make sure you actually put them on and see how they feel for you before going riding with them for the first time.
Here's some things to look out for when factoring in the feel of your gloves:
Is there room to move?

Are your fingers too snug?

Is there too much inner liner (or too little)?

Does the liner impede your movement?

Do they make your hands sweat?

Are the gloves going to be comfortable during those cold weather rides?


3. What Are They Made Of?
It's important to factor in what type of material your gloves are made of when searching for a good set of riding gloves.
Here's some things to look out for when factoring in the construction of your gloves:
Are they leather or textile?

If they are made of leather, what kind of leather is it? Synthetic or animal-based?

The materials chosen will affect more than how the gloves feel, but also how they perform in a crash, or how long of an overall lifespan they will have.
More times than not, a glove will either be made of textiles, leather, or a hybrid-mix.
Never underestimate how the materials used for the construction of your glove's can impact their functionality. After a potential crash, textiles will usually have to be replaced, while a good pair of leather gloves can often survive multiple crashes - or they can even be repaired. Textiles, however, offer a wide range of possibilities for protecting riders from extreme weather and impact crash conditions.
So, what type of material is best?
In truth, there's really no right or wrong answer. The type of glove material that you choose will depend more on personal preference and the type of riding that you undertake.
To help you figure it out, here's some of the pros and cons when factoring in the type of material found in your gloves:
Textile Gloves
Textile gloves provide solid protection against abrasions, cuts, and breaks. They also come in a variety of colors and patterns sure to compliment your style.
Textile gloves definitely have their place in riding:
They're ideal for waterproof protection.
They're also ideal for dealing with temperature extremes (both hot and cold weather rides).

Typically, they're not going to have an extended break-in period the way that an animal leather glove would. They should fit perfectly right out of the box, while leather gloves will tend to break in overtime.
They also have a more consistent fit when buying identical pairs.
Unfortunately, textile gloves also have inherent faults:
They don't conform (or mold) to your hand all that well.

They don't break in and get more comfortable as you wear them over time.

They often come with heavy liners that add bulk to the glove.

They have a one-time crash use and must be replaced more frequently. 
Leather Gloves 
Genuine leather motorcycle gloves have been a mainstay for any serious motorcyclist since the advent of riding. Leather gloves are protective, stylish, and made to fit all different types of riding.
The main advantage of leather gloves is:
They have a higher level of abrasion resistance.

They have greater longevity and can frequently survive multiple crashes.

They will break in and get more comfortable over time and mold to your hands.

They require less reinforcement like kevlar, hard plastics, or carbon fiber to protect you properly.
Unfortunately, those benefits come at the following expense:
Waterproof options are extremely limited with leather.

They're also not ideal in extreme temperatures (hot or cold).

They often come at a much higher price point than their textile counterparts.
Hybrid Gloves
Here's where you can have the best of both worlds. Leather and textiles can be combined in a hybrid material that offers you both the abrasion resistance of leather while providing the weather protection that textiles give you.
What's more, hybrid gloves often come with complex liner systems or mesh at the back of the hands to help combat the extremes of warm or cold weather riding.
Increasingly, glove makers have integrated even more advanced materials into hybrid gloves to add even more protection and additional features. Materials like kevlar, titanium, carbon fiber, and hard plastics are used to increase impact protection in hybrid gloves.
The main advantage of hybrid gloves is that they:
Provide waterproof functionality.

They're abrasion resistant.

They great for multi-seasonal riding in extreme temperatures.
Unfortunately, those benefits come at the following expense:
They have limited use or durability.

The built-in liners add bulk to the gloves.
4. How Much Do You Want to Spend on Them?
The old adage that "you get what you pay for in this world" certainly rings true when buying a quality pair of motorcycle riding gloves. There's such a wide variety of gloves across all price points and budgets.
You might be wondering, why should i spend close to $300.00 on a new pair of gloves when i can get cheaper pair at $30.00 from my local bike shop?
What's more confusing, is that the price that manufacturer's charge for a pair of gloves doesn't necessarily reflect how well it's made or how well it will protect you in a crash.
Confused yet?
Not to worry, that why we're here. 
Try to keep the following in mind when factoring in the dollar value of your gloves:
Quality materials and stitching will almost always come in gloves at a higher price point.

Leather gloves are always going to be more expensive than textile gloves.

The type of armor or built-in protective plates will also affect the price. Be prepared to

Spend more for carbon fiber or kevlar armor over the lesser priced plastic or cell-foam padding.

Durability matters. It doesn't make sense to save money on a pair of gloves if you have to keep replacing them every few months.
A truly great glove will blend price and quality by offering superior protection and feel like an extension of your own hand.
Fortunately, there's so many high-quality gloves on the market to suit all budgets – so long as you know what to look for.
5. What Type of Protection Will They Provide?
It's easy to get hung up on features that look cool or might seem important, instead try to concentrate on the practical features that a glove provides.
Remember our earlier conversation about taking a spill?
Our instinct when taking a stumble is to fall on our hands to protect ourselves. If you come off your motorcycle, the likelihood that you'll reach out with our hands to shield yourself from the impact is all but certain. What happens next will depend on a bunch of factors. The only one that you can really control in those terrifying moments are what's in between you and the hard asphalt.
It is important to realize just how much damage can occur from having inadequate hand protection during a fall. It's shocking how little it takes to break one of the small bones in your hand or slice them to shreds when sliding across the cheese grater that is asphalt.
A well-designed glove can greatly reduce your risk of injury. What's more, they will provide you with a greater ability to operate controls and levers.
Just keep in mind, cool-looking carbon fiber knuckles with air vents are great, but do they come at the expense of being too restrictive? In the same vein, will those high-end leather gloves that cost you and arm and a leg save your hands if you fall?
Padding
This is a good time to discuss the types of padding common in motorcycle gloves.
Nothing saves your hands in a fall like padding. To understand what to look out for when selecting a glove, let's review the types of padding in protective riding gloves.
Palm Padding

Palm padding protects the most likely area of impact over the palm and the flat of the hand by adding an extra layer of protection between the cheese-grating road surface and the soft skin of your palms.

Palm Sliders

Palm sliders are tough plastic studs added into the glove that can turn a potentially abrasive impact into a harmless slide leaving no more than minor scratches to the glove.

Knuckle Protectors

Knuckle protectors might not seem important, but they invaluable at protecting against road debris, insects, stones, and side collisions.

Gauntlet (Wrist) Protectors

A full gauntlet offers significantly more protection around the wrist area than traditional short gloves do.

Kevlar, Carbon Fiber, Or Plastic Re-Enforcement

These advanced materials add even more impact protection and additional features for maximum peace of mind.

6. What Type of Weather Do You Ride In?
Weather can be everything in riding. When deciding on the right set of motorcycle gloves, you must consider the weather. Most importantly, you're going to want gloves that provide "ride-specific" protection based on your local environment and temperatures.
Cold weather dictates that you have warm or heated gloves to protect you from the bone-chilling wind or snow.
Hot weather, on the other hand, mandates that your hands receive steady airflow to prevent sweating and becoming slippery. Sweaty hands from the baking sun can lead to a loss of control when handling throttles and levers.
7. How Much Does Style Matter to You?
The last factor to consider - after you've assessed a set of gloves for function, weather, and protection - is to factor in their style.
There's nothing like having the perfect set of gloves that also look cool. Perhaps they'll have a fancy pattern or color scheme, or perhaps they'll match the rest of your clothing or your bike itself.

There are also definite advantages to having fashionable gear that goes beyond how you look. Like most things in life, looking the part often translates to acting the part. Often having the proper equipment or gear causes people to be more dedicated and more serious about the endeavors that they undertake. This seriousness can lead to greater experience and mastery of your bike. That in turn can lead to greater safety.
It also doesn't hurt to turn some heads. Keep in mind though that style often equates to an increased dollar value when purchasing gloves. 
SPECIFIC TYPES OF MOTORCYCLE GLOVES BLOG POSTS
Now that you understand the makeup of gloves, let's talk about the different types of motorcycle gloves available on the market. These will range from cruising gloves to street gloves, to mx gloves, to touring gloves.
As with everything else gloves, the yam is here to break them all down and recommend the best glove for your individual needs.
Sport and Street Gloves

Sport bike and street gloves are made to be worn frequently, often for short distances and on a broad range of motorcycles. Above all they're crafted to withstand major abuse while still allowing your hands to be nimble during high-speed situations.

Sport and street gloves are short-cuffed gloves for easy on and off, and designed for comfort, convenience, and increased protection with armor and sliders added to protect your hands from impacts and high-speed slides.

When looking for a sport or street glove you're going to want either a high-quality leather with heavy stitching or a performance textile blend.

Race Gloves

Racing gloves are made for peak performance and specifically designed for race and track use. Race gloves tend to be full gauntlet in their design and made of high-quality leather in construction.

Racing gloves are typically not worn for long periods of time, so they usually do not offer excellent comfort or ventilation. Instead, these gloves are aimed at maximizing protection, control, and maneuverability.

Race gloves up the protection factor by offering armor and advanced features incorporated into the gloves

Cruising Gloves

Cruising gloves are designed to be very comfortable (and often very stylish) for long days of riding and commuting. They tend to prioritize aesthetics over functionality.

Cruiser gloves come in both leather and textiles and usually offer a more traditional "biker" glove vibe to them.

Touring Gloves

Touring gloves are made for long-distance riding in all sorts of weather scenarios. Like race gloves, touring gloves tend to be "full gauntlet" in their design and functionality. Touring gloves however have further enhancements that allow a rider to deal with all-weather riding situations with a combined aim at both comfort as well as protection.

Touring gloves prioritize comfort, functionality, and protection against inclement riding conditions over aesthetics. You'll often see touchscreen capability as a prominent feature in most touring gloves, as they allow you to navigate the road using a gps or smartphone.

ADV Gloves

ADV or adventure gloves are hybrid gloves intended for dual-sport off-road riding and adventure riding.

ADV gloves are short cuff gloves in their design for an easy in-and-out of your hands, and aimed at maximum maneuverability and impact protection, while still retaining on-road features such as an abrasion-resistance.

Typically, adv gloves will be leather at the palm, as well as a mesh or textile on the back of the hand with some form of a waterproof option.

Dirt Bike and MX Gloves

These flexible gloves are specifically aimed for dirt riders and allow you to have the most dexterity and provide excellent grip on your bars.

Off-road motorcycle gloves focus on performance at the grips and levers for optimal tactile precision. Dirt gloves emphasize maneuverability and comfort over protection.

Most options in the mx style are short cuff in their design and are well ventilated to maximize breathability when riding in hot weather.

The materials used in dirt gloves will almost exclusively be textile with a max amount of stretch built in. Armor will often be incorporated and mostly concentrated around the knuckle areas. However, because the focus of dirt gloves is on maneuverability, there's not going to be significant impact protection, making them ill-suited for street use.

Dirt gloves tend to wear out every season or two so they will have to be replaced more frequently than other glove types.

Cold Weather Gloves

As you'd imagine, these gloves are good at keeping your hands warm when riding in cold weather conditions. Insulation is key in the cold to prevent a loss of control on your ride.

Winter gloves often come in a textile main construction with a waterproof membrane and a thermal liner. Forget about aesthetics in a winter motorcycle glove as they all look like oversized mitts. What they lose in eye appeal, they more than make up for in functionality though. A good pair of heated motorcycle gloves lets you put in longer hours of riding when the wind chill runs into the single digits.

Winter motorcycle gloves incorporate self-heating mechanisms via the use of internal or external sources of electricity. They run off battery packs that can be recharged and allow you to adjust the level of heat

Warm Weather Gloves

Long summer road trips lead to sweaty palms and can make your riding experience a dangerous one.

Warm weather gloves typically have a combination of mesh and leather as the main construction. This is important, as the leather provides both the tactile feel and the needed abrasion resistance on the palm, while the mesh provides the airflow on the back of the hand.

A good set of summer gloves offers ample ventilation to keep your hands cool and comfortable with enough padding and protection around the knuckles and palm to stay protected.
Final Thoughts and Tips to Consider

We've thrown a lot of information at you, but the big takeaway here is that a good set of motorcycle gloves is an absolute must for any rider.

In case you didn't have the time to read this glorious piece of gear knowledge in its entirety, we'll toss in some key takeaways as a quick overview:

Not all gloves are created equal. Be sure to carefully check the quality and features of a glove, as well as the user reviews for each before buying.


You don't want gloves that are going to cause finger or hand fatigue after a long day of riding. So, be sure to try your gloves on when they arrive. Get a feel for them while sitting on your bike and try out the controls to make sure that you're happy with their feel and range of motion.


Look for the individual features that you need in a glove instead of going for a particular brand or aesthetic appeal.


The type of motorcycle and the type of riding that you do should dictate the best glove for you.


If you take anything from this verbose (yet complete) guide, it's that you should never buy a pair of motorcycle gloves based on aesthetics or fashion alone. While it will ultimately feel great to find gloves that make you look cool, please remember that gloves are designed to help keep you safe.


Try to find that perfect pair that helps you control your motorcycle by allowing you to easily manage indicators, flip switches, push buttons, and pull levers.


Try to find gloves that feel comfortable no matter the weather and no matter the length of your ride.


Above all, never skip on safety and protection. Select gloves that will keep your hands protected in the event of a fall.


Some motorcycle gloves can be washed. Washing them depends on what style and material they are made of. Typically, textile gloves can go through your washing machine. However, leather should always be cleaned by hand. Some gloves with armor built-in should be spot cleaned with soapy water and rinsing.


Motorcycle gloves are typically not unisex. Gloves typically come in designs for either men or women with the proportions of the fingers and palms being different.

 

CONCLUSION

There are an overwhelming number of motorcycle glove options on the market. Hopefully, our complete guide to motorcycle gloves helps answer all the questions that you might have when trying to pick the perfect option for you.
At yammie noob, our mantra is "never miss a ride"! We live it and we embrace it.

We hope that you use this knowledge to pick the pair that fits you right, cushions you against crashes, and allows you to feel that you are in full control of your ride - no matter your riding style or budget.

Whether you purchase a set of gloves from yammie noob or from the other guys, please do yourself (and your hands) a favor and pick up a quality set of riding gloves.

Yammies Motorcycle Gloves Recommendations

Now that you know everything there is to know about motorcycle riding gloves, what pairs do we recommend?

Let's talk about our favorite glove options:

BEST SPORT & STREET GLOVE:


The EVS Assen Glove is a fantastic beginner and summertime riding glove that offers a ton of airflow as well as protection. This glove feels great - right off the rack - and is a joy to ride in.
The assen glove is a lightweight, breathable glove perfect for the street. The carbon fiber knuckle provides superior impact and abrasion protection, while the padded leather palm provides all-day comfort for dexterity. The built-in pull tabs extend the life of the gloves and allow for easy removal.
An awesome choice for an all-around, street, sport-style glove!


---

BEST RACING GLOVE: 

The Stingray Race Spec Racing Gloves by 4SR deliver a gauntlet-style, full leather sport glove designed for racing use.
4sr refused to compromise on the construction or quality of materials used to craft these gloves. What's more, the stingray race spec gloves have been created with an emphasis on safety and maximum flexibility.
By combining exceptional comfort and feel in the fingers with high-level protection the stingray race spec offers an unmatched combination of quality, comfort, and price.

---

BEST COLD WEATHER GLOVE:

The Navigator Gloves by First Gear is a waterproof and breathable gauntlet-style glove with a drawstring inner gaiter to seal out the elements. Full-leather construction with chamude synthetic-leather palm and fourchettes combine to make an overall lightweight glove suitable for all styles of riding. A rubberized hard-knuckle cap provides additional protection.
Ready to go whenever you want? The navigator gloves feature 420d textile and leather palms with full gauntlets and wrist adjusters to fight off wind chill, even at high speeds. A slightly padded foam knuckle helps to aid in protection while keeping weight and bulk to a minimum. Smartphone touch conductive fingertip and thumb features have been included for your convenience, making it easy to stay connected without taking either glove off, so your hands stay warm and protected.


---

BEST DIRT BIKE & MX GLOVE:

The Wrister Glove from EVS Sports features an innovative injection-molded, shock-absorbing system that reduces hyper-extension and compression-related injuries.
The wrister is the only motocross glove in the world that have a wrist brace built into them, making them one of the most supportive motorcycle mx gloves on the market.
They offer a fully integrated shock absorber to truly reduce impacts while you ride. Perfect for riders who are just coming back from a wrist injury, or riders simply looking for extra stabilization to help prevent hyperextension and compression during riding.
If you love off-roading, dirt bikes, atvs, or even mount bikes, they're a great choice for you!

---

BEST ADV GLOVE:

The men's airmatic gloves by 100% is the perfect go-to glove for all types of riding.
Great for both offroad mx riding and street style racing, the multi-panel construction of the airmatic is engineered to blend unmatched comfort and versatility into a great fitting, all-purpose motorcycle glove.
If you're looking for everyday comfort and protection for any ride, the robust airmatic gloves are the right choice for you.

---

BEST LIGHT SUMMERR GLOVE:

The Rush Air Gloves by First Gear has the right amount of "Give" with a light, poly stretch mesh construction for a comfortable fit, yet provides protection with airprene impact-absorbing knuckle pads.
Reinforced, synthetic leather, perforated palm and thumb panels, and hook-and-loop cuff closure give you a secure grip and prevent blistering on long rides.
Ready for riding in the summer heat? The rush air gloves are constructed from a mesh backhand with a perforated synthetic leather palm to keep your hands from becoming clammy. Need to access your phone or gps? No need to remove your glove with the touchscreen-friendly fingertips.
A simple glove, designed to never let you down, no matter where you end up!

---

BEST ALL AROUND RIDING GLOVE:

Short of wearing a full gauntlet, the EVS NYC Glove gives you the highest level of protection with padding, armor, and abrasion resistance in every place that matters. This glove is extremely comfortable and feels great in both mild to warm weather rides.
The NYC Glove is constructed of breathable air mesh with genuine leather in crucial, high-wear areas. The carbon fiber knuckle provides superior impact and abrasion protection, while the padded leather palm provides all-day comfort and dexterity. The built-in pull tabs extend the life of the gloves and allow for easy removal.
If quality, looks, and affordability are what you desire, this cruiser-style street glove is the right choice for you!

---
At yammie noob, we have a huge selection of quality, affordable motorcycle gloves guaranteed to fit your riding style - and your budget!
Take some time to browse our wide array of riding gloves that will keep your hands protected so you never miss a ride!
DISCLAIMER
Due to factors beyond our control, yammie noob moto cannot guarantee against improper use or unauthorized modifications of this information. YN Moto assumes no liability for property damage or injury incurred as a result of any of the information contained on this guide.
Please use this information at your own risk. Any injury, damage, or loss that may result from improper use of this information or equipment recommendations is the sole responsibility of the user and not YN Moto.
Please take the time to read and research the motorcycle gloves that you use. Education is a huge part of protecting yourself and enjoying riding for a long time to come.
Never miss a ride!
Our goal was to create the most detailed, comprehensive, and complete guide on motorcycle gloves ever published on the web. Reach out to us on social media and let us know how we did. 
PAPA YAM