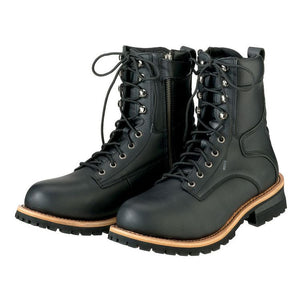 RUGGED DURABLITY!

The M4 Riding Boots by Z1R are a top-of-the-line motorcycle boot designed for the serious rider. These boots are constructed from high-quality full-grain waterproof leather, which provides excellent durability and resistance to abrasion. The leather upper of the boots is thick and of high quality, providing superior protection for the feet and ankles.
The boots feature reinforced toe and heel areas, as well as reinforced shifter pads, which add an extra layer of protection to the most vulnerable areas of the foot. The sole of the boot is slip-resistant, ensuring a good grip and stability while riding. The boots are designed with a low-cut profile, perfect for sport riding.
The Z1R M4 Riding Boots are designed to be waterproof, which is a great feature for riders in areas that often get rain. The M4 boots are also very comfortable to wear, even during long rides. They are easy to put on and off, thanks to the side zipper.
I you're in need of a tough, reliable pair of riding boots then look no further than the Z1R M4!
Product Features: 
Premium full grain waterproof 2.2mm leather
Eyelet/hook lace design front side
Zipper for quick and easy on/off
Slip resistant, oil resistant sole
Moisture wicking anti-bacterial lining
Climate control cushioned insole
Technical Specs:
Material: Leather
Available Colors: Black & Brown
Available Sizes: 7 / 7.5 /  8 / 8.5 / 9 / 9.5 / 10 / 10.5 / 11 / 11.5 / 12 / 13 / 14 / 15
Brand: Z1R
Gender: Men's
Fit:
These tend to fit true to size and should be ordered based on your standard shoe size.
Why these Boots are Yammie Approved:
✓ Rugged Design!  The Z1R Frontline Boots are built to withstand even the toughest conditions, thanks to their high-quality leather construction and slip-resistant sole.
✓ More Comfort!  Thanks to a padded tongue and collar and moisture-wicking lining to provide all-day comfort and protection for your feet.
✓ Quality Materials!  With a premium full grain leather chassis, which has not been sanded or buffed to remove imperfections, making it the strongest and most durable type of leather, resistant to water and stains.
✓ Refined Looks!  The attention to detail and stylized lines are guaranteed to turn some heads on a jacket that looks great on and off your bike.
✓ Value for Money!  With a lightweight and unrestricted shape that keeps you comfortable and protected – all at an unbeatable price