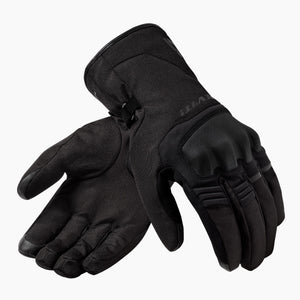 DON'T LET THE WEATHER RUIN YOUR RIDE!
Are you looking for a way to protect your hands during the colder riding months? Get ready to conquer the road in all weather conditions with the REV'IT! Lava H2O Gloves!
Meticulously crafted to offer riders unmatched comfort, protection, and style, ensuring that nothing stands between you and your next adventure. 600D Polyester on the palm provides abrasion resistance while still being able to feel the controls. A special water-resistant treatment keeps the leather looking good despite riding through the occasional shower. Two-way stretch fabric hugs your hands while still offering superb breathability. Hard knuckle protection and foam palm sliders protect against impacts.
All-weather versatility is within reach! Whether you're facing a summer downpour or a chilly winter ride, these gloves offer dependable protection and comfort. Experience unbeatable protection, comfort, and style as you hit the open road, no matter the weather. Say goodbye to compromising on your gear and embrace the freedom to ride in confidence.
Product Features:
Outer Shell: 600D Polyester, flock PU, PU coated fabric, PWR|shell twill stretch
Protection: Temperfoam thumb knuckle, PWR|shieldPWR | shield was developed by REV'IT R&D to provide unsurpassed cut, tear and abrasion resistance. It is created via a unique knitting technique which combines polyethylene/polyamide and aramid fibers resulting in a fabric with amazing abrasion resistance. When layered with Cordura denim, as found on many REV'IT! jeans, the protective qualities rival that of leather. at Palm, Temperfoam palm slider, TPU hard-shell knuckle
Insulation: 3M Thinsulate, fleece
Waterproof & Breathability: Hydratex|Z-liner with McFit technology
Ergonomic Features:
Fit: Tour fit
Features: Elastic at wrist, short cuff, connect finger tip
Fit (Sizing Note):

These gloves run a bitter smaller and tend to fit on the snug side. 
Please use the following sizing guide to find your hand measurements and then size up to the next size when buying:
Why Choose REV'IT!?
Since 1995, the REV'IT! brand has embodied excellence in design, performance, and innovation.
By continuing to shape the standards of safety, comfort, and style in motorcycle clothing, REV'IT! has positioned itself as the leader in high-quality motorcycle clothing for people all over the world.