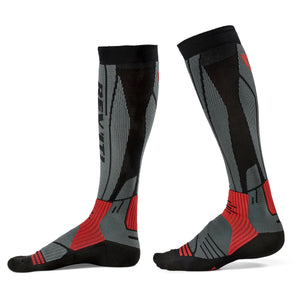 NEVER MISS A RIDE! - NO MATTER THE TEMPERATURE!
Are you looking for the ultimate pair of cold weather riding socks? If so, the Andes Winter Socks by REV'IT! deliver!
Engineered to conquer the winter chill, these socks are more than just a layer to keep your feet warm; they're your essential partner for a cozy, comfortable, and uninterrupted cold-weather ride.
With the REV'IT! Andes Winter Socks you can experience warmth and comfort like never before. Say goodbye to the discomfort of cold feet and hello to cozy winter rides. Cold feet can make a winter ride feel miserable. Help mitigate that winter chill with the Andes Socks from REV'IT! These socks incorporate pure Merino wool to help keep your feet warm while other fabrics wick moisture away from the skin, keeping sweat at bay. The anatomically shaped footbed with built-in cushioning, support and ventilation channels makes sure you stay dry and comfortable without overheating. The fabrics used in our socks quickly wick moisture away from the skin, while ventilation channels keep the feet cool, dry, and comfortable.
Whether you're on your bike or simply stepping out in the cold, these socks have you covered. Keep feet happy in the cold with the Andes socks!
Product Features:
Multiyarn Roundknit construction
Acrylic/Polyamide/Wool/Polypropylene/Elastane
Merino wool yarns
Anatomically shaped footbed supports / cushions feet
Ventilation channels along with moisture wicking fabrics help to keep feet dry and comfortable
Why Choose REV'IT!?

Since 1995, the REV'IT! brand has embodied excellence in design, performance, and innovation.
By continuing to shape the standards of safety, comfort, and style in motorcycle clothing, REV'IT! has positioned itself as the leader in high-quality motorcycle clothing for people all over the world.