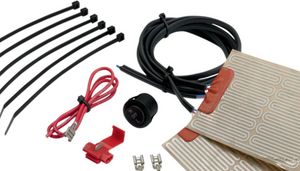 KEEP YOUR HANDS WARM - ON ANY RIDE!
Are you looking for a way to keep your hands warm on those cold offseason rides? If so, the Moose Racing Hand Warmer Kit is for you.
Say goodbye to numb fingers and hello to warmth and comfort with this reliable grip heater kit from Moose Racing.
When the cold weather arrives and you're determined to keep riding, the Moose Racing Grip Heaters are your ideal companion. Designed for both practicality and comfort, this grip heater kit is the solution to frigid fingers and chilly rides.
These grip heaters provide you with the warmth you need to maintain control and precision on your handlebars, no matter how low the temperature drops. The kit is easy to install, ensuring that you can enjoy the benefits of toasty hands without the hassle.
It's a must-have addition to your gear, especially during those colder riding seasons.
Product Features:
Extend your riding season with the Moose Racing hand warmer kit
This kit allows the heating elements to fit neatly and discreetly under the original or aftermarket grips
Easy to install, with two-stage heat settings, this kit is suitable for all types of ATVs with twist throttles
Kit includes two heaters, high/low/off round rocker switch, hardware, plastic tie straps, and instructions
Total 40 watts, draws less than 3 amps
Made in the U.S.A.