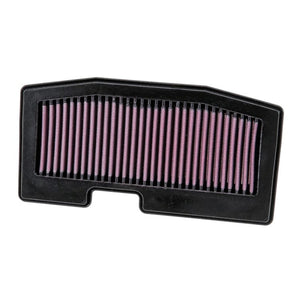 UPGRADE YOUR RIDE!

K&N Air Filters are designed to achieve a virtually unrestricted air flow while maintaining filtration levels critical to engine life. The secret to their success lies in the unique characteristics of the filter medium which was originally developed by K&N all those years ago in the dust, sweat, and tears of desert motocross racing.
The high-flow cotton gauze air filter is washable, reusable, and built to last for the life of a motorcycle engine. K&N air filters consist of four to six sheets of cotton gauze layered between two sheets of aluminum wire mesh. This media is then pleated and oiled to enhance its filtering capabilities and overall performance. K&N Air Filters were created for an environment requiring maximum horsepower and enhanced acceleration in addition to protection from dirt and dust. The result is an air filter that allows dramatically more air into an engine, is washable and reusable, and will protect your engine for the life of your ride.
Product Features:
Designed to provide increased horsepower and torque
Pleated media provides a large filtration area offering long service intervals
Multiple layers of woven cotton gauze media offer excellent filtration
Application-specific base seal and sealing bead
Made in the USA for over 40 years
Washable & reusable, pre-oiled, and ready to ride!
Million-Mile Limited Warranty
Compatible with the following:
Triumph Daytona 675: 2013-2018
Triumph Daytona 675R: 2013-2018
Triumph Street Triple 675: 2013-2016
Triumph Street Triple 675R: 2013-2016
Why these Air Filters are Yammie Approved:
 ✓ Get More Power! Thanks to the unrestricted air flow that also maintains filtration levels critical to engine life
✓ Fast Install! The typical installation time takes only a few minutes for DIYers.
✓ They Eliminate Contaminants!  Thanks to multiple layers of woven cotton gauze.
✓ They're Durable! Thanks to a washable, reusable, pre-oiled filter.
✓ They Give You Peace of Mind! Thanks to a Million-Mile Limited Warranty.