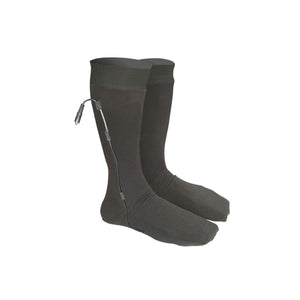 KEEP RIDING – NO MATTER THE TEMPERATURE!
Are you looking for a way to stay warm on those cold offseason rides? If so, the Heated Socks by Gears Canada are for you.
When the temperature drops, and the open road calls, the Gears Canada Heated Socks will become your trusty companion, delivering unbeatable warmth and comfort for every cold-weather ride.
Elevate your riding experience with a pair of Heated Socks – the ultimate solution for staying warm and comfortable during those chilly rides - ensuring you can enjoy your adventures year-round.
Product Features:
Made with 85% polyester and 15% lycra
Made of technical anti-micro bacterial lycra® from DuPont
Extra tall to cover most of your calf
Provides heat on the top and bottom of the toes
The ZEPTO® fiber heat technology covers entire foot area providing uniform heat
Custom fit design for left and right feet
Fits under tall or short boots
Each sock uses 12 volts
Socks (as a pair) draws 1.4 amps of current to produce 19 watts of heat