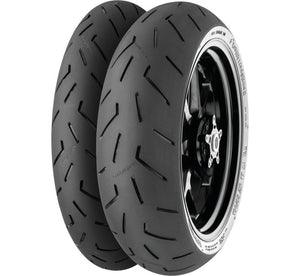 GET RIDING WITH NO WARMUP REQUIRED
The Continental ContiSport Attack 4 Radial Tires are race-ready from the moment they are installed - tire warmers not needed.
Designed with black chili sport compound for superior grip and traction. RainGrip technology provides excellent handling under wet weather conditions. No need for tire warmers on race day, the Attack 4 Radial tires warm up in the first few miles.
Product Features:
Designed with a black chili sport compound.
Larger footprint at extreme angles.
Rapid warm-up within the first miles.
RainGrip technology for excellent handling under wet conditions.
Suitable for track use without tire warmers.
Eligible for Continental's free 3-year roadside warranty.
This is the Front tire only.
Why these Tires are Yammie Approved:
✓ Maximum Grip!  Thanks to Continental's "BlackChili" compound of polymers that ensures maximum grip on the road and on racetrack surfaces.
✓ Increased Safety and Control! Thanks to Continental's "GripLimitFeedback" technology that increases safety at high lean angles, allowing the rider to receive early feedback from the tire when it reaches its limit.
✓ Superior Wet Performance! Thanks to Continental's new "Wet Grip" compound for superior wet grip and higher mileage.
✓ Peace of Mind! Eligible for Continental's Free 3-year roadside warranty.