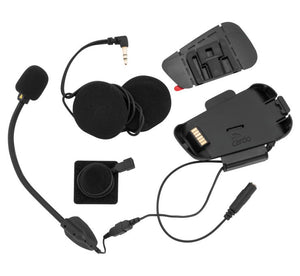 BUILT FOR MORE
Are you looking to use a second helmet and don't want to ride without your Cardo? This Cardo Hybrid and Corded Microphone Audio Accessory Kit is your solution!
Equipped with both hybrid and corded microphones and detachable 32mm speakers, this additional audio kit is perfect for moving your unit easily between helmets.
MP3 connectivity: the new audio kit allows an MP3 connectivity option by connecting your MP3 device with the provided MP3 cable; the cable links the MP3 device to the jack located at the back of the audio kit.
Comes with a cradle, hybrid mic, corded mic, 40mm speakers, and all required gear to mount the kit. Audio kits can be attached to helmets using either the standard clamp method or the new gluing method (which includes a special glue plate).
Compatible with the:
Packtalk Bold
Packtalk
Smartpack
Why these units are Yammie Approved:
✓ They Keep You Safe!  With your hands on the bars and your attention on the road.
✓ They Give You Options!  Now you can use your Cardo kits in multiple helmets.
✓ They're Easy to Install!  With simple instructions to make installation a snap.

✓ They Won't Break the Bank!  At a low price point, they're a cost-effective solution.