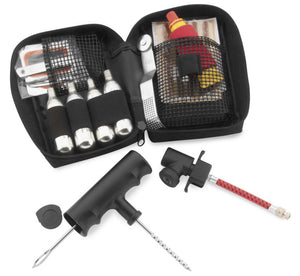 NEVER GET STUCK ON THE ROAD
Don't let a 5-cent nail ruin your trip. The BikeMaster Tire and Tube Flat Repair Kit is cheap insurance to get you back on the road quickly.
The kit comes complete with patches, plugs, plug insertion tool, hole cleaner, glue, pressure wheel with surface preparation tool, and knife for plug trimming. Includes four CO2 compressed air cylinders and an air valve that can connect directly to the tire valve, or use the flexible airline included for hard-to-reach valves.
Covers tubes and tubeless repair.
Comes with a one-year limited warranty.
Technical Specs:
Weight: 1.25 Lbs.
Product Dimensions (L x W x H): 6.5" x 4" x 2.5" inches
Manufacturers Part Number: YP-881TR
Type: Tire Repair Kit
Brand: BikeMaster 
Why these Wrenches are Yammie Approved:
✓ Never Get Stranded!  With a roadside kit to fix any flat.
✓ Functionality!  With a kit that covers tubes and tubeless repair.
✓ Easily Stored!  At 1.25 pounds you can stash it away easily.
✓ Peace of Mind!  These kits come with a one-year manufacturer's limited warranty.