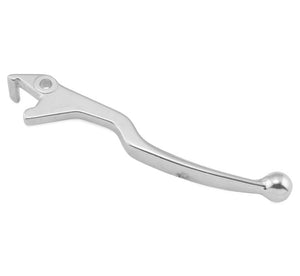 FUNCTIONALITY AT YOUR FINGERTIPS!
The BikeMaster Brake Lever is perfect for anyone looking to replace their stock levers with a stronger 6061-T6 aluminum lever engineered to be tough.
Motorcycle brake levers are essential for your safety. Don't settle for anything less than the best.
Product Features:
Made from high-quality 6061-T6 aluminum.
Engineered to original equipment (O.E.) specifications for impressive performance.
Polished Finish.
Comes with a manufacturer's one-year warranty.
Compatibility:
Suzuki AN400 Burgman: 2003-2012
Suzuki LT-A400F Eiger 4x4: 2006-2007
Suzuki LT-A400F KingQuad 4x4 ASi: 2008-12, 2014-2019
Suzuki LT-A450X KingQuad 4x4 AXi: 2007-2011
Suzuki LT-A500F Vinson 4x4: 2005-2007
Suzuki LT-A500X KingQuad 4x4 AXi: 2009, 2011-2019
Suzuki LT-A700X KingQuad 4x4: 2005-2007
Suzuki LT-A750X KingQuad 4x4 AXi: 2008-2019
Suzuki LT-F250 Ozark: 2005-2009
Suzuki LT-F250 Ozark: 2012, 2014
Suzuki LT-F400 Eiger 2x4: 2005-2007
Suzuki LT-F400F Eiger 4x4: 2005-2007
Suzuki LT-F500F Vinson 4x4: 2005-2007
Suzuki LT-Z250 QuadSport: 2004-2009
Suzuki LT-Z400Z QuadSport SE: 2004-09, 2012
Suzuki TU250X: 2009-2012
Kawasaki KFX400:

 

2004-2006

Why these Levers are Yammie Approved:
✓ Ride Like a Pro!  With a high-grade lever that keeps you ready for just about anything the road will throw at you.
✓ They're Built to Last!  Made with industrial-grade 6061-T6 aluminum to offer premium quality.
✓ Great Value!  In a lever that's tougher than stock and less expensive.
✓ Peace of Mind!  These tools come with a one-year manufacturer's warranty against defects.