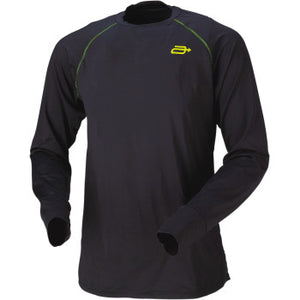 DON'T LET THE COLD HOLD YOU BACK!

Prepare to take on winter's chill with the ARCTIVA Regulator Base Layer Shirt, your first line of defense against the cold. Designed for riders who demand comfort and warmth, this shirt is more than just a layer; it's your key to an enjoyable, cold-weather riding experience.
Embrace winter with the ARCTIVA Regulator Base Layer Shirt and experience unmatched warmth and comfort. Say goodbye to the discomfort of cold rides and hello to the freedom of layering with confidence. Whether you're hitting the trails, the slopes, or the open road, this base layer shirt has got you covered. Don't let the cold weather slow you down; gear up and enjoy the season in warmth and style.
Ride on, regardless of the weather, with confidence, versatility, and style that complements your adventurous spirit!
Product Features:
Mid-weight, highly breathable, polyester
Polyester/spandex blended fabric removes moisture away from skin to keep you dry and comfortable
4-way stretch fabric for ultimate comfort and range of movement
Crew neck and simple slim sleeve hem design for comfort
Flat lock stitched seams for added seam strength and comfort performance fit
Fit:
These shirts should be purchased using the following size chart: