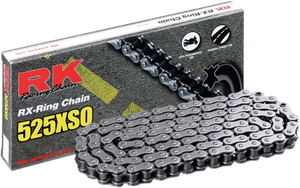 UNBEATABLE PERFORMANCE
A quality chain is "the" link to a good riding experience.
The RK 525XSO RX-Ring Chain features RK's proprietary dual chamber "RX-ring" seal design that ensures its performance and durability and offers quality, performance, and unbeatable value.
Viewed in cross-section, the RK "RX-Ring" has two lubrication pools and seal points versus the single seal point/pool design of a regular O-ring chain giving XSO chains 1.5-2x longer wear life than standard O-ring chains.
The 525XSO distinguishes itself by having an 8,500-pound tensile strength that makes it perfect for street applications up to 750cc in displacement. RK has also fitted the 525XSO with their unique RX sealing ring that gives the links and rollers two pools of lubrication to draw from and two sealing points to keep the chain lube in and abrasive buildup out. All this makes for a high-performance chain that stands up to incredible stress while still remaining a great value.
Product Features:
High-quality pins, bushings, and rollers for maximum durability.
All pins are 4-point riveted.
Specially designed RX-Ring creates double barrier protection plus anti-debris protection, featuring one lubrication pool to reduce abrasion, heat buildup, and torsional friction.
Longer wear life than an O-ring chain.
Rated for 750cc max street or 750cc max offroad use.
8,500-pound tensile strength.
Weighs 3.36lbs per 100 links.
Includes Rivet style master link (Clip style master link available, sold separately).
RX-Ring seals.
Pre-stretched, shot-peened, and heat-treated
Technical Specs:
Chain Size: 525
Manufacturer's Part Number: 525XSO
Type: RX-Ring Drive Chain
Weight: 3.36 Lbs.
Color Finish:

 

Natural Steel
Why these Chains are Yammie Approved:
✓ Outstanding Performance!  With an RX-Ring chain that offers greater rigidity, smoother handling, reduced power loss, and quicker response.
✓ Longer Chain Life! The RX-Ring technology reduces friction as it twists with the plates, instead of being squished like traditional O-Ring chains.
✓ Value for Money!  By boasting a much longer chain life at such a competitive price point, you'll get way more bang for your buck.
✓ Anti-Debris! Thanks to double-barrier protection.